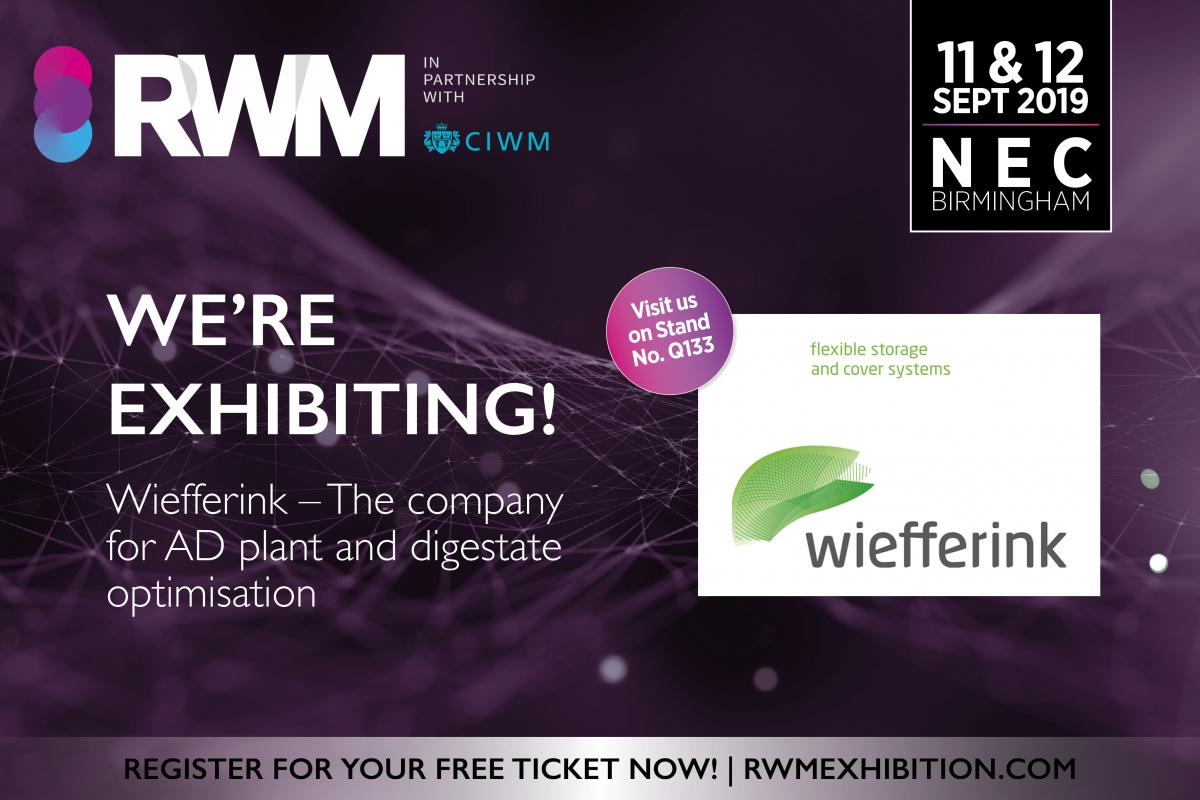 We at farmergy wanted to let you know that we will be attending the RWM Exhibition 2019 at the NEC Birmingham. Why don't you come along and say hello? We love to meet our clients face to face and hear about your plans and goals.
The event is completely free to attend so please come along to stand Q133 on the 11th & 12th of September.
We are delighted to be part of an event welcoming the likes of TerraCycle, Biffa, Suez and Patron of Clean Up Britain Jeremy Paxman as well as being surrounded by some of the environmental industries biggest innovators. This week we will be discussing our supplier Wiefferink's innovative products that can help the WWTP, Anaerobic Digestion, biogas, biomethane, farming industries survive in a post subsidies and feed-in-tariffs (FITs) environment and help meet Clean Air Strategy targets
We also have experts providing key insights during this event:
"Come join our masterclass in increasing efficiency, profitability and environmental standards of biogas & biomethane plants. Owen will explain how these efficiencies can be achieved, by out-engineering money draining problems when running AD plants and show how to reduce ammonia emissions to meet Clean Air Strategy objectives. We maximise benefits derived from the anaerobic digestion of organic wastes to harness this invaluable renewable bioenergy for circular economy renewable energy production."
To register for your free ticket, please visit RWM Exhibition website or click here
We look forward to seeing there!
INFORMATION ABOUT RWM Exhibition
Around 14,000 recycling and waste management professionals will flock to Birmingham's NEC for RWM on 11 & 12 September, 2019.
As the UK's leading sustainability event, the industry's most influential names and organisations attend RWM to discover the environmentally sound and profitable innovations shaping the sector.
In 2019, RWM will house 500 cutting-edge exhibitors and 350 expert-led seminars split into seven focuses: Energy From Waste, Handling & Logistics, Machinery & Equipment, Recyclers & Reprocessors, Data Tech & Services, Zero Emissions, Ai & Robotics Conference.
With live product demonstrations, insightful seminars, and so much more on offer; this is the event of the year for recycling and waste management professionals.
Visit the RWM website to grab your FREE tickets, or contact Nick Woore on 0117 929 6083 or nick.woore@prysmgroup.co.uk to enquire about exhibiting and sponsorship opportunities.
Farmergy presents Wiefferink B.V. of the Netherlands
Wiefferink excell in flexible storage and cover systems for environmental, pollution control and biogas industries.
With more than 60 years of experience, tthe Wiefferink Group processes flexible foil and delivers products and services related to storage and covering solutions. 
The follwing innovative products help the WWTP, AD, biogas, farming industry survive in a post subsidies and feed-in-tariffs (FITs) environment and meet Clean Air Strategy targets, we can pretty much improve the perfomance of all under performing biogas plants, and maximise the outputs of already high achieving biogas plants. Take the Farmergy challenge....
1) NEW PRODUCT LAUNCH FOR UK: - Triple membrane AB roof biomethane storage. We are launching the new, biomethane industry innovation Triple Membrane Biomethane Digester Roof Storage for Biogas Plants. Where space and tariffs are at a premium, in-roof biomethane storage will make your biogas to biomethane plant more competitive without needing extra land for additional biomethane storage. This will give you the operational edge, even if there is no space onsite to store biomethane. In the UK, biomethane attracts subsidies, and any way to maximise on your investment in infrastructure will pay dividends. We have already installed and road-tested this design, the results were a massive thumbs up.
2) Flex Fermenter - low cost low CAPEX primary / secondary digestor - enable the 
building of new plants or extend current infrastructure, half the price of a 
2) Ecobag and Silocovers - help the UK achieve The Clean Air Strategy ammonia reduction of digestate and slurries. 
3) Combibag - re are relaunching this old favourite, a single skined flexible digester as a 
gas capture end store for digestate, we have achieved a payback period of months 
on one of our customers sites.
4) Service boxes - service your agitation system with zero loss of gas or plant operation