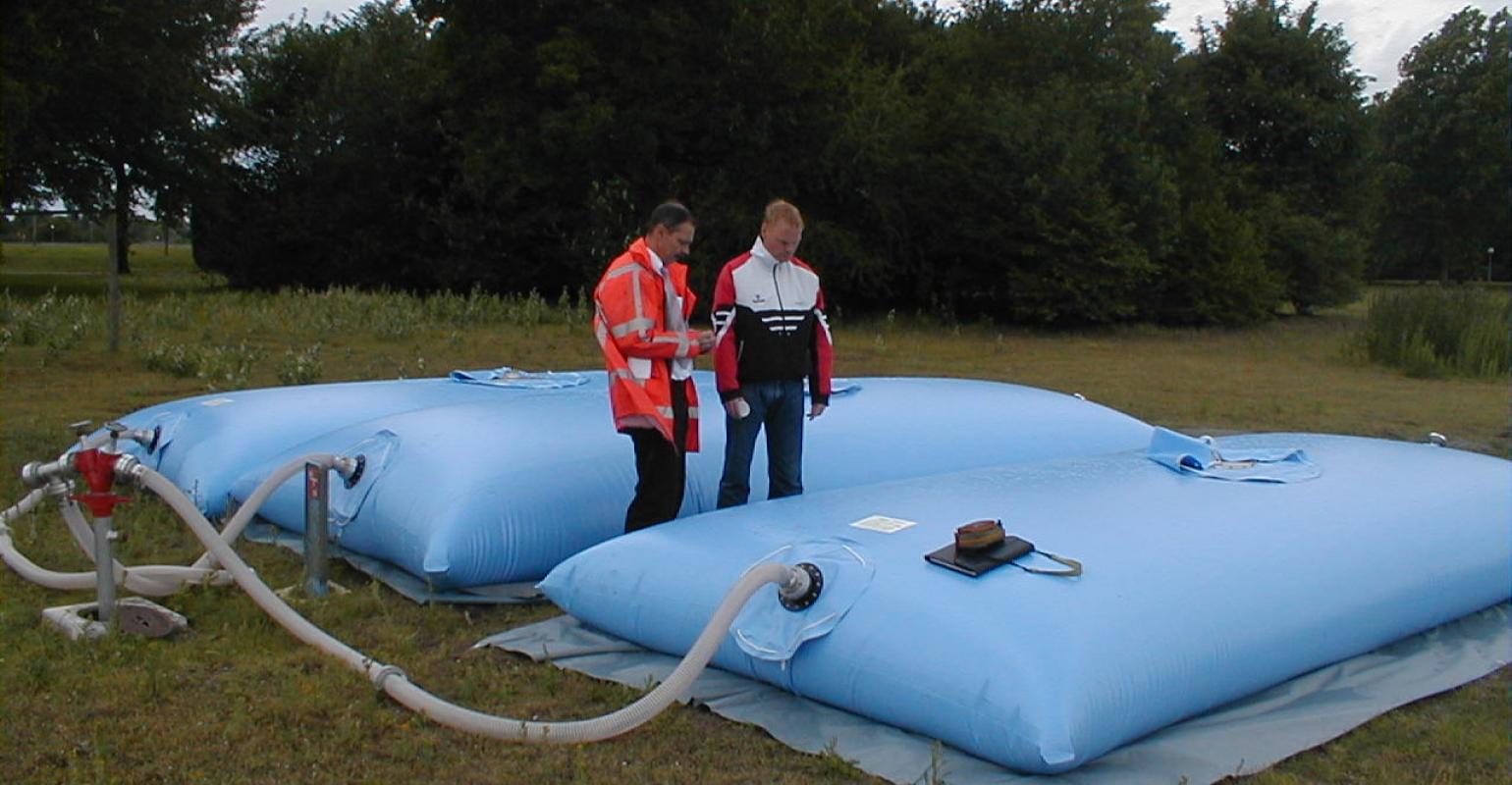 WRAS APPROVED PILLOW TANK - Flexible liquid storage or 'pillow' tanks.
The Flexitank is designed to store liquids: from clean water (WRAS approved version) and fuels to wastewater, separated liquid biogas digestate, fire extinguishing water and liquid buffers for industrial use. It is a unique product that make safe, durable storage of water and liquids possible in any location.
Ideal low carbon water storage for event management, festival water supplies, construction site water supply, emergency water supplies, disaster relief water storage, fire suppression standby tanks when cleaning fire sprinkler tanks, temporary water storage when replacing cold water storage tanks, boat water storage, airport runway antifreeze storage, fuel standby tanks, polluted water storage, or whatever situation you need to temporarily store or contain liquids with confidence with minimal fuss.
Advantages and benefits of Flexible pillow tanks verses conventional rigid tanks
- WRAS APPROVED POTABLE (sizes 20m3 and 50m3), COLD WATER SERVICE, FUELS and CHEMICALS STORAGE VERSION MATERIALS AVAILABLE
- STORAGE FOR LARGE VOLUMES OF WATER
- FLEXIBLE MODULAR SYSTEM
- EASILY INSTALATION AND TAKE DOWN
- AVAILABLE IN STANDARD VOLUMES AND CLIENT-SPECIFIC SIZES  10m3 (10,000 litres) up to 1000m3 (1000,000 litres)
- AVAILABLE IN DIFFERENT SHAPES, SQUARE AND RECTANGULAR BOX AS WELL AS THE PILLOW SHAPE
- WATER AND FUEL PROVISION IN REMOTE LOCATIONS
- EASY TO TRANSPORT DUE TO RELATIVELY SMALL VOLUME AND LOW WEIGHT
- 44% HIGHER CARRYING CAPACITY THAN VATS, WHEN TRANSPORTED IN CONTAINERS
- TAKES UP JUST 2% OF THE MAXIMUM VOLUME WHEN EMPTY
- LOW CARBON DUE TO REDUCED FUEL AND TRANSPORTATION REQUIRED
Farmergy are the sole sales and distribution agents for Wiefferink products in the UK, please get in contact for more details, site visit and/or quotation.