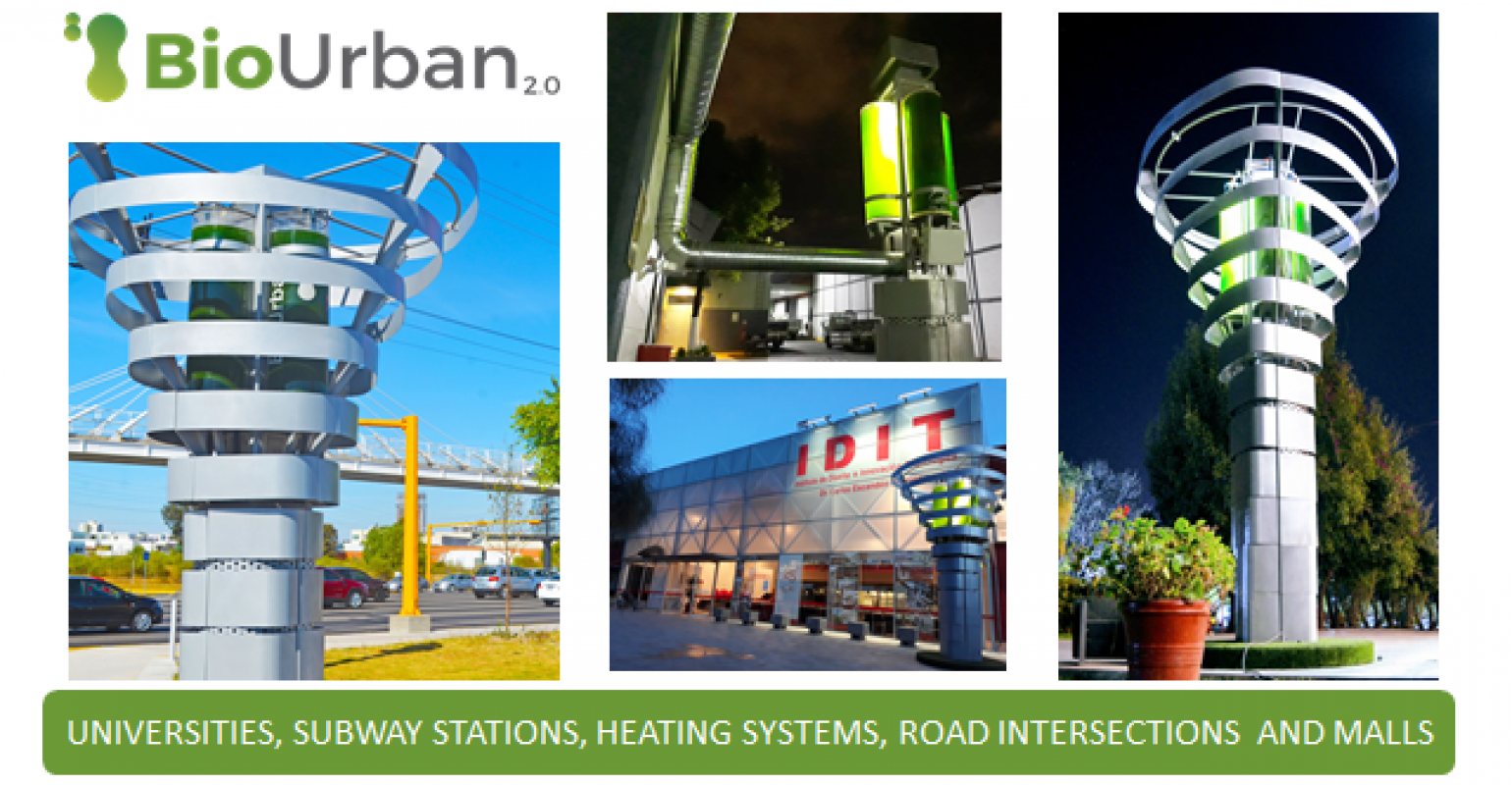 Come and take part in the UK launch of the BiomiTech BioUrban range of active algae air filtration systems at Birmingham's NEC exhibition center on Wednesday 12th and Thursday 13th September 2018
This Autumn, one thousand of Europe's top air pollution professionals will travel to Birmingham's NEC for two days of learning, networking and discovery at the UK's largest event of its kind.
On 12 & 13 September, Clean Air Technology Expo will present the cutting-edge technology, cost-effective services and engineered solutions that are advancing the detection, prevention and management of airborne pollutants across the globe.
In one venue, 35 of the leading clean air technology suppliers will display the very latest algal air filters, gravitational settling chambers, cyclone separators, fabric filters, electrostatic precipitators, cyclone scrubbers and more; providing attendees with the platform to touch and try these innovative products.
The video above was BiomiTech's application to the LatAm Edge 2018 BiomiTech beat 166 other companies to the final prize which was presented at the Indigo Suite, in London's O2 arena during the Global Ecosystems Summit, an event in London Tech Week. Next BiomiTech will be showcasing their award winning BioUrban Range, for the first time on UK and European soil.
The BiomiTech range and the Urban Forest Concept help solve the problems caused by outdoor Urban Air Pollution or for buildings and spaces with high CO2, poor air quality or need to provide air changes in confined spaces.
These products are for councils, corporations, land owners, mining operations, aircraft, Corporate Social Responsibility (CSR) agendas, schools, universities, healthcare establishments, or anyone that would like to benefit from breathing clean oxygenated air. To start with we recommend pinpointing the air pollution hotspots, and those in our population most at risk from harm and ailment caused by respiratory problems, then work out from there.
You can own, rent, or sponsor a tree in a high pollution hotspot, we are starting in London, as we want to make a big impact. London has a small physical footprint, so this is a great place to start applying volumes of units, so we can make not just local clean air spots but effect the atmosphere by sequestering substantial amounts of air pollution. We are doing this by calculating how much ambient air pollution is present and how many trees we would need to make a positive impact by bringing air pollution emissions down and meeting prevailing legislation within 5 years. You can help facilitate the BiomiTech Urban Forest and together we can meet this target. This is an ambitious project, viewed in light of the costs of inaction with regard to addressing the air pollution crisis.
So by calculating the total pollution and then applying the number algal trees to sequester that much pollution, we have a total number of trees we could reach for critical mass of positive benefit, to go one step even further let's network the results of the amount of air filtered and show them on a web platform, so everyone can see how much clean air we are creating together and how many more algae trees we need to complete the project for that city...... thus the concept of The BiomiTech Urban Forest was born.
BiomiTech are the first company to offer an effective potential solution to air pollution both within buildings, public and external areas, we are thinking out of the box and big enough to make a real measurable difference.
It is our vision to plant an Urban Forest of BioUrban 2.0 'algae trees' in the UK, London to start with, with the multiple trees linked and streaming statistics to a master data management platform in order to generate insights to measure the success of the trees and enable intelligence led decisions to be made upon where the units are based placed to generate the biggest impact. Our insights can be collated, aggregated and business intelligence supplied to our clients so that they can measure their organisations / personal carbon reductions.
The BiomiTech project aims to plug the gap we have in our current transport and urban living infrastructure air emissions, by providing clean air now. Legislation takes care of people in the future 10 - 30 years from now when diesel is phased out, and electric cars are mandatory etc. But what about us right now?
Let me take you on a journey...."Imagine a busy street and road in London, look up....the air is hazy, smell....the exhaust fumes, now imagine 368 eucalyptus trees all down that road breathing in the CO2 and pollution, that would look cool but would take up quite a bit of space that is at a premium in our cities. Now replace the 368 trees with one BioUrban 2.0 algae tree on a footprint of 1m2, go even further and install 10 trees, that's now 3,680 trees taking up a foot print of 10 m2 on the ground, that is the processing power of algae. Now look up....and see eco architecture and street furniture with the wow factor, those shining green tanks of algae are eating up that pollution and respiring out oxygen to give us clean air right now. Nature brings us back into balance.
Until technology and legislation create the circumstances for clean urban air, BiomiTech are here ready and waiting to start the clean up now, to give ourselves some breathing room to make the right choices for our cities and our citizens that we have a duty of care to provide safe and clean living conditions.
The BiomiTech solution is the only known active air purification technology that uses biomimicry, and turns the negative of pollution in to a growth medium for the fastest growing form of carbon sequestering plant life – Algae, AND then utilises that sequestered carbon as biomass feedstock to displace further fossil energy. Turning a negative into a positive and creating a circular economy.
BiomiTech biotechnology is not about replacing current living solutions such as real trees, living walls or green roofs, we are advocates for these bioengineering solutions and who wouldn't rather sit in the shade of a tree on a hot summers day? We believe that by working together to apply all these beneficial techniques as part of a package to create clean air and cooling, we can create positive, beautiful and comfortable cities.
All of these green tools need to be applied together in unison, bringing as much greenery and the breathing capacity of a forest into our cities and urban areas desperately in need of clean fresh air. This can be provided via algae tech and oxygenated air and heat sinks provided by living walls and green roofs and good old fashioned trees. We prefer to collaborate than compete, clean air is not a competition it is a right for all living creatures.
September's Clean Air Technology Expo will also put on an unparalleled program of educational seminars - presented by a lineup of the most experienced and respected experts in the world of air pollution.
Unmissable seminars at The Clean Air Technology Expo 2018
"We will discuss the problem of urban air pollution, Mexico has some of the worlds heaviest air pollution, we will show how BiomiTech have applied their knowledge innovatively to create the BioUrban range that harnesses the power of algae that naturally feed on pollution. We will be teaching algal feeding and growth cycles, why algae feed on the pollution, the outputs i.e. oxygenated air and how to creatively utilise and add value to the waste algae, how to create a circular bioeconomy by creating biofuels from the algae biomass fed on the pollution created by our modern urban activities."
And as well as offering unrivaled industry insight, every expert-led seminar at the show is CPD-accredited, meaning visitors can continue to progress with that all-important professional development.
Finally, a ticket for this year's Clean Air Technology Expo will give attendees unlimited access to the content across all nine co-running exhibitions - RWM; The Flood Expo; Marine & Coastal Civil Engineering Expo; Spill Response Expo; Hazardous Materials Expo; Geotechnical & Geoenvironmental Expo; Land Remediation Expo; Wastewater Expo and Nuclear Decommissioning & Remediation Expo.
For more information and to register for your FREE tickets, please click on any of the photos or banners above or enter here
Please contact Emma Greenwood via LinkedIn or visit www.farmergy.co.uk directly to book a personal meeting at the show if required, this is your chance to meet the inventors of the BiomiTech systems as they are in the UK from Mexico and will be available to take your questions, or just come along informally and take a look at the mesmerizing green. We will only be presenting the seminar on the Wednesday though, so if that's important to you pick that day.
If you think Birmingham is too far to travel for a trade show, then think again, you will want to be here at the beginning of the BiomiTech journey, were going global, starting from the United Kingdom.
Not only that but The Contamination Expo has co-located some of the top pollution abatement and contamination containment shows into one arena over 2 days, for any professional working in this field, you are going to get your monies worth, especially so as the tickets are free.
See you there, click on the ticket below to book your space.
Regards, Emma Greenwood